---
Featured Album:
Coming Soon
Jan 2018
​
​​Watch this space!
---
Radio Bookclub:
Three Things About Elsie by Joanna Cannon

Review date - Live discussion on Tue 22 January 2019 at 9pm (UK time)
​
84-year-old Florence has fallen in her flat at Cherry Tree Home for the Elderly. As she waits to be rescued, she considers the charming new resident who looks exactly like a man she once knew – a man who died sixty years ago. His arrival has stirred distant memories she and Elsie thought they'd laid to rest. Lying prone in the front room, Florence wonders if a terrible secret from her past is about to come to light …
The Sunday Times Bestseller
'Lovely, lovely, lovely… Sue Townsend meets Kate Atkinson meets Nina Stibbe' MARIAN KEYES
'Powerful and profound' - Guardian
'Another sure-fire hit' - Daily Mail
'Funny, melancholy, acutely observant' - Sunday Express
[Amazon]
---
Merchandise


We've teamed up with Clothes2Order to bring you a great range of tee-shirts available to order in various sizes and colours. We'll be adding more designs and items soon, so keep an eye on it.

​NEW (Mar 2016) - Rugby shirts and sweatshirts added!
---
Chatting - weekday evenings we present a live show where you can get interactive with the ChatWING - you can log in as a Guest, or with Facebook, Twitter etc..
Of course you can still use Email, Twitter, Facebook or our Contact page for a "shout" on air.
---
What's playing at Crowzone radio?
Our playlist is grouped into three main categories; A, B & C List.




A List - these play most frequently on CrowZone Radio. Our current favourite album artists include: Everything everything, Muse, Embrace, Foo Fighters, Paramore, Walk Off the Earth, You Me At Six, Imagine Dragons, StereoKid plus many many more contemporary and classic tracks

B List - play less frequently and include many of the classic songs you would expect from more commercial stations

C List - playing once every 9/10 songs is something a little different. It may be an oldie, maybe something a little continental or just something less commercial, the C-list gives us our quirky flavour!




The great thing is, if you don't like what's playing now, there'll be something completely different along in a minute!

facebook/crowzoneradio

twitter/crowzoneradio
Powered by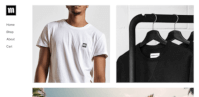 Create your own unique website with customizable templates.
Photo used under Creative Commons from Photo by Vitaly L.K.